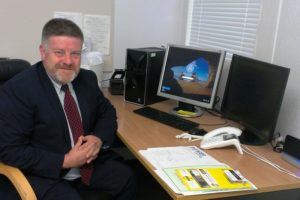 Newton Stewart Initiative is pleased to confirm the appointment of Mr David Mitchinson as the new project coordinator.
Newcastle born Dave has been a member of NSI for a while, also serving as a director, and now brings a wide skills range to the role of project coordinator.
Mr Mitchinson has been a local resident since 2014 having holidayed here since 2006 and has a passion for the community and area.
Newton Stewart Initiative have recently appointed a new project coordinator who says his "passion" for the town can drive the group's major plans forward.
David Mitchison's appointment comes at a crucial time for the Initiative as they focus on opening a new community shop, secure funding for a BMX track at Douglas Park and identify a suitable site for a new community centre. Fifty-three-year-old Newcastle-born Mr Mitchinson has been involved with the NSI for some time as a director, having moved permanently to the town in 2014, after having a holiday home here since 2006.
He said: "The aim of the initiative is basically the regeneration of the town. We are duty bound to develop a couple of projects in the town – the Douglas Park BMX track and a new community centre – the original one was thriving when it closed. "We have already got the Newton Stewart Centre up and running and it is more than breaking even and now we are well on the way to opening a community shop in the old tourist information building in Dashwood Square where every £1 spent will stay in Newton Stewart and Minnigaff. It will be a charity shop with local crafts and have a tourist information section as many people still assume that is where it is! We would hope to open on September 1st."
The Initiative has had a great boost recently when they became Sainsbury's charity of the year. David continued: "I am passionate about Newton Stewart and Minnigaff and it probably helps that I'm an outsider! I want to make things happen and I have a lot of experience. We can change people attitudes by giving them something tangible. We have already put on four craft fairs and all the proceeds go to our projects.
Finding funding is key and we are very grateful for the support we have already received from the Cree Valley Community Council. "Our two longer term projects are the Douglas Park which we are looking to re-develop and build a BMX track, car parking, fencing, football pitch and play equipment, our other project is to provide the town with a much needed community centre. The original centre was closed due to austerity measures and we are well underway with feasibility studies and consultations.
The people of Newton and Minnigaff are, to me, passionate, friendly and hopeful for the future, and we are confident our projects and aims will be achieved and we will all see the town prosper." NSI chairman David Inglis added: "NSI are pleased to have Dave on board and we are looking forward to working with him on the development of our major projects."
Published Friday 11 August 2017