Live Projects:
Douglas Park
Community Centre/Facility
Newton Stewart Centre
Community Shop
Development of Douglas Park:
Phase 1: BMX Track and 7-a-side football pitch with fencing/parking
Phase 2: Upgrade of play facilities/picnic benches
Total Cost circa £140,000
Hired Creetown Initiative as consultants
Planning Approval granted 26/08/15
Funding approved from:
Holywood Trust     £40,000 (for BMX and football pitch)
Robert Barr Trust   £10,000
The Current Position
Adoption agreement secured from D&G Council.
Condition of Planning Permission was that the installation of a car park was needed before any works could start.
Quantity Surveyor in place, and advising on moving forward to the next stage of project development.
Project Worker, Nathon Jones, was working alongside QS and others in gathering detailed costings and looking at different avenues for funding.
Development of Community Facility:
The vision is to develop a Centre that provides modern state of the art facilities and accommodation that will be available at affordable costs for a range of community groups and activities.
It is hoped that the facility can also be used as a central point for service provision from a range of sectors and organisations.  We will be holding two days of consultations with the Community at Newton Stewart Centre on Friday 17th and Saturday 18th June where we will be discussing this project in more detail.
The recently held two days of Community consultations on what people would like to see was very well attended.  School groups were invited along to let us have their thoughts on what a Community Facility should 'look & feel' like with some really great feedback from them. The older generation also came along and gave their views from location, to what events could be held, to what was needed inside – small rooms; big rooms; play areas; cafe; sports and everything in between.  Some more consultations will take place over the next months and once all the information is gathered, documented and analysed then the next phase of this project will be announced.
Newton Stewart Centre
(formerly The Hut)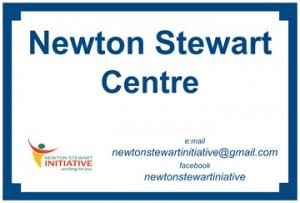 Fully renovated and now open for hiring  – contact us via email: newtonstewartinitiative@gmail.com or on Facebook at Newton Stewart Initiative.
Thanks for donations from:
Decoration costs internal (D Inglis / Crown Paints)
Flooring material and labour supplied (Stiki Flooring)
Kitchen supplied (Howdens Joinery)
External ramp re-surfacing (Frazer Halkett)
Tree felling (Ben Lockwood)
Ground clearance (Jeff Lupton)
2nd Kitchen Sink (Steve Smith of Wizard Gas)
Taking Notice
3 New Notice Boards are now mounted in Newton Stewart to enable local groups to advertise events. To place your adverts, pick up a key from Laura's Shop or D Inglis Home Decor Shop.
Newton Stewart Community Shop
This facility for the community was officially opened on Saturday September 9th 2017. The Community Shop provides at the first stage a shop outlet selling donated items the proceeds of which will go to fund local projects. Stage two is also operational where the volunteers running the shop are able to provide basic local and regional information to both visitors to the town and local residents. The shop is also a point of contact within the community. A third stage offering sales space to local artists and crafters is hoped for in the near future. The Community Shop is sited with the building that was the former Tourist Information office near Dashwood Square. The building had been unused for several years and to have it back in action serving the local community is very encouraging. The shop is open Monday to Saturday 10am to 4pm.
1,814 total views, 2 views today