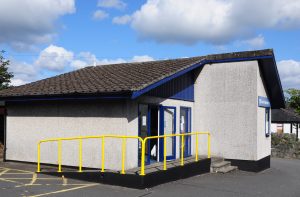 Newton Stewart Initiative has been working away quietly in the background for many months with Dumfries and Galloway Council to secure a long term "community shop" for the town. We are delighted to confirm that having navigated and solved numerous obstacles to getting the shop started, our doors are now open and everyone is very welcome. The shop is situated within the building that was the former Tourist Information Office at Dashwood Square car park. The official opening ceremony of the shop will take place on Saturday September 9th with local MSP Finlay Carson doing the honours as part of the "Day of the Region event." The shop will be open Monday to Saturday from 10am to 4pm.
Your community shop will be selling unwanted donated new and pre-loved good quality clothes and items from a wide range. The proceeds will go back into the Newton Stewart and Minnigaff community, in the form of funding local projects and events. Every item donated and every item bought will help the local community directly. We aim to keep everyone fully up to date with amounts raised, what we have helped to fund, where, when and how.
As the shop is situated within the former Tourist Information Office, which closed several years ago, as a courtesy service to visitors we will also do our very best to offer local information and generally try to tell visitors why they should stay and spend time in Newton Stewart and Minnigaff. A selection of maps and flyers will be available to visitors.
A long term plan in the community shop is also to present an area (space permitting) for local crafters and artists to display their work to visitors with a percentage of any sales also going to fund local community projects and events.
It is good to see what was a long term empty closed building now re-opened as a community shop with the aim of helping our town and community to the best of our ability, in both funds raised and as a point of contact. Please come along and support this new NSI project. The shop also has it's own Facebook page which is well worth checking for updates and promotions.
Facebook:- Just follow the link and "like" page to follow for all the updates and Community Shop News.